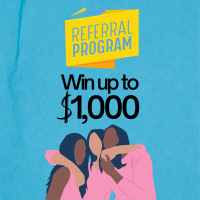 2 MIN READ
An Opportunity To Save Up To $1000 With Our 'Refer A Friend' Scheme
So, most of you are already familiar with our 'Refer a Friend' scheme that benefits both you and the friends you bring along to Rulta. I want to enlighten those who are not aware of this scheme. This is how it works.
Once you subscribe to Rulta, we will assign you a personalized link you can send your friends. We credit 20 percent of your friend's first order amount to your Rulta account – up to $100 – for every sign up that happens via your link. Your friend who just signed up, also automatically receives 20 percent off their first purchase. So, let's say they signed up to the Pro plan, they will only be paying $87.20 instead of $109 for the first month, once the discount is applied.
But the real good news is that we are raising our Referrer cap from $100 to $1000! This is a great fiscal opportunity for all as many of us, across the globe, are struggling with rising living costs amidst the international economic crisis we are facing. This scheme also helps us spread the word for our services as word-of-mouth referrals help us to continue providing an extensive and thorough copyright protection service for content creators worldwide.
All you need to do is go to your Rulta dashboard, click 'Referral Program' on the drop down menu to access your discount link, and send that link to your friends. The terms and conditions of the program are available to read there. Please note that those Referral's who want to sign up to the trial plan must inform our team so we can manually apply the discount. This promotion cannot be combined with any other promotion.