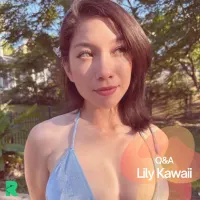 Miami-based Lily Kawaii answered our questions about her personal life and being a 🌶 content creator. Read to find out more about the Filipona-native model.
Q.We loved watching your YouTube videos about skincare. What is your current skincare routine and how do you take care of your skin?
A. I still am a fan of Korean skin care‼️ I currently use P. Calm cleanser, toner, moisturizer and supergoop sunscreen
Q. You clearly take care of yourself and have an active lifestyle😍 Are you a go-to-the-gym or fit-in-a-workout-at-home type of person? What are your favorite physical activities?
A. Omg thank you 😊 I go on walks almost everyday with my dogs 🐕 I also have a horse 🐎 I ride most days. I go to the gym every Sunday ‼️😁
Q. Can you reveal something about yourself we don't know?
A. I am currently training to be a show jumper‼️ it's a horse riding sport
Q. We heard about your plans to move to England. Is this going to happen any time soon?
A. It's still a possibility‼️ Will keep you updated of course 😁
Q. Do you have any pets? 🐾
A. Yes. I have 2 dogs, Kovu (husky mix), Luna (chihuahua mix), 3 cats - Nemo (British shorthair), Mr Tickles (British longhair), and Sushi (Siberian). And a horse named NOVA.
Q. How did you decide to become an OnlyFans creator?
A. To be completely honest, I had an ex boyfriend talk me into camming‼️ I took control of the situation and he's been out of my life for years. It isn't the best way to have gotten into it, but I'm being honest‼️ I am very happy doing it now though.
Q. How has being a 🌶 creator affected your life? Do you have any regrets?
A. Being a spicy creator of course comes with its ups and downs. I love being able to express myself online, connect with my fans, and I enjoy the online world 🌎.
I am thankful for Rulta to help protect my content as you guys help relieve a lot of my anxiety that comes with this job‼️
Q. What are the pros and cons of working as a 🌶️ content creator?
A. Pros : freedom of time, being my own boss, being able to be myself‼️ cons: content pirates 🏴‍☠️ but Rulta helps me with that‼️ I've been working with Rulta on and off for YEARS now 😁
Q. Any tips/suggestions to creators🌶️✨ who are new to the industry?
A. Stay true to yourself, and use Rulta to help protect your hard work ‼️😁
Q. How has your experience been with us so far?
A. 🤩 amazing. I've been using you guys for years ‼️ and I've only seen you guys get better and better. You guys stay updated with the current tech, always respond to my questions, comments and concerns.
Q. Do you have any suggestions for us? What/how can we improve?
A. Just keep doing you ‼️ I'm very grateful 🥹
Thank you for taking the time to answer our questions!❤️
Lily Kawaii's social media profiles: