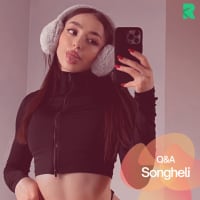 5 MIN READ
Q&A with Songheli: How OnlyFans Changed Her Life
This week we spoke to 19-year-old Songheli, who opened up about her life and how she became an OnlyFans model. The Polish internet influencer answered questions about being a spicy content creator, her hobbies, and offered advice for others who are newer to the industry.
Keep reading to learn more about Songheli herself.
Q. We love your content! How did you decide to become a🌶️content creator and how has it changed your life?
A. It was like 2 years ago. I was a student and I was just really curious because Onlyfans had their peak in that time, at least on my social media where it appeared a lot 🤣 However, I wasn't sure about doing 🌶️ content at that time. I also had a lot of complexes and I was sure that no one would want to follow my content or any social media but I tried and made an account where I only added soft photos with no face. I thought then that if I earned at least $50, I would have some bonus money for college 🤷‍♀️ Everything changed when after a month I earned a lot and gained a lot of fans. All my "college" problems disappeared and I wasn't even posting any 🌶️ content or even my face!
I was the type of girl who always wanted to be a famous porn star but never meant it seriously 🤣 I wasn't even trying too hard back then so I thought what if I try? So, I started to focus on my content on the internet to such an extent that I quit my college to have more time for work. Now I'm glad that I'm a curious person 😜 I love my job and I feel free. I can focus on myself, on my body, on my hobbies.
My story in the beginning sounds very easy but I always tell girls who ask me how I started that I must have had some luck and it's not that easy to reach that point when you can drop your college etc.
Q. What are the pros and cons of working as a 🌶️ content creator?
A. The biggest pros of working as a 🌶️ content creator are for sure being self-employed and working remotely. I can work anywhere and anytime, but I think that's a common advantage of any online job. Pros specific to working as a 🌶️ content creator are probably different for everyone. For me, it is an increase in self-confidence, removal of complexes. I always have someone to talk to, all my fans are great.
Coming to the cons here, of course there are a lot of haters, but by fans I mean people who are my subscribers and real fans, not random comments on social media. If it wasn't for people who have a weird perception of this job and hate it, I think it would be hard to find any cons. If someone has a weak psyche, it can certainly be a problem, but looking at it optimistically, if it wasn't for the haters, this job would be too perfect, so just don't read bad comments and enjoy it 😝❤️
Q. It's great to know that your parents support your OnlyFans career. How do you deal with the judgement that SW face on a daily basis?
A. At first, I couldn't understand why people hated me. This hate, however, is almost always not justified at all. These are random insults or saying over and over that being a 🌶️ content creator isn't a real job. I admit that it was very annoying at first, but after a while it became boring for me and I didn't pay attention to it at all. And it must also be noted that such hate, at least for me, exists only on the Internet. I have a lot of friends and meet a lot of people who know what I'm doing and none of them have ever said anything bad to me. These days, I think everyone has their haters. Some have more and some have less. I think most people have no idea what it's like to be an 🌶️ content creator, what the job is like, how much money you get out of it etc, so they make up weird stuff. Fortunately, SW-ing is getting more and more popular, so I hope people will finally understand it 😉
Q. You clearly love fitness and being active. How did you get into pole dancing and what are the benefits?
A. YES! I love working out at the gym. It is my favorite hobby for sure. When I'm having a bad day, I'm nervous, I'm in a bad mood, I go to the gym. I used to not have much time for the gym, now I have a lot more, thanks to which I could also sign up for pole dance classes. A friend suggested that I go with her to one of the classes and then I fell in love with it. Pole dancing for me is an additional training for sure, it is very difficult. I love the satisfaction of pole dancing when I train a figure for a long time and it finally comes out 😍
Q. What is your best on-the-job memory?
A. My best memories are certainly from meeting other people who work in 🌶️ as well. I always had a great time making content with them and we still keep in touch and meet from time to time. Meeting new friends is definitely a good memory 😌
Q. What is your worst on-the-job memory?
I'm a lucky person because it's hard for me to come up with something. I mostly work alone with my boyfriend, and when we did something with other SW they always turned out to be awesome people, so it's hard to come up with a bad memory 🤷‍♀️
Q. How did you get into video games and what have you learnt about the gamer industry?
A. I always say that a good game is like a good TV series, but better, because you can get more into it 😁 Now I play less games, but I'm always up to date! It's because of my 🌶️ job that I got a lot of opportunities to work on some projects in the gaming industry. Unfortunately, the process of creating games is quite long and because of NDA I can't say anything about what I've been doing, but I can't wait to show everything. Who would have thought that thanks to my SW job, I would one day have the opportunity to participate in the creation of a game 😜
Q. Any tips/suggestions to creators🌶️✨ who are new to the industry?
A. It's always a hard question. At the beginning, the most important thing is to consider whether you really want to do it because many girls are simply afraid. No wonder, because there is so much hate for this work. You definitely need to have a strong psyche, if you don't have it, remember that mental health is very important. That's why I never like to give advice and encouragement.
However, if you really want to try it, remember that at the beginning you can add everything even without a face, there are a lot of stars that still don't show their faces and they are at the top 😜 remember to have a cool pornstar name too! 😂 My nickname Songheli is the most randomly generated name ever because I never thought I would be popular on the internet so after gaining a fan base it was too late to change 😂😭
Q. When did you sign up to Rulta? How has your experience been with us so far?
A. I was looking for a DMCA service for a long time. To be honest I tried a few before using Rulta. There is a lot of competition for DMCA for sure. None of them really helped me, the user interface in some of them was really bad. In some I had to manually click to report all of the links with leaked content and if you are a SW, you know that there is A LOT of them 😂 Finally I found Rulta and my only regret is that I didn't start with it sooner 😭 I would save so much time and nerves. Everything is clear, understandable and there is always a chat assistant who can help you at any time😌❤️I don't have to push a single button. Sometimes I report some links manually, which is a very nice option too of course. 😌
Q. Which of Rulta's features have you benefited from? And how? Do you have any suggestions for us?
A. No DMCA service has cleaned Google of my leaks as much as Rulta. Surely thanks to this, more people can find my official pages and social media. Unfortunately, there are a few websites or applications on which leaks cannot be removed. I would suggest trying to change it, but Rulta has been trying and fighting with them already, so there's nothing to complain about 🤷‍♀️
Songheli's social media profiles: