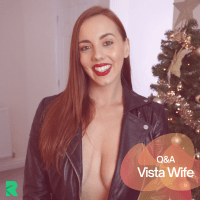 8 MIN READ
Q&A with Vista Wife: Britain's most famous swinger answered our questions.
Swinging ambassador and OnlyFans model, Vista Wife, shared exciting stories about herself, and offered her tips on being a content creator. The businesswoman has been a client of Rulta's since September 2022, and is using the Pro plan.
Keep reading to learn more about the internet influencer herself.
Q. You and your partner, Gage, have created an entire community for swingers (SwingHub), which is an incredible achievement! How did you become involved in the 🍍 lifestyle?
A. Gage and I got into the lifestyle after discussing sex and fantasies. I mentioned that I think I am into women and had a little experience with another woman in my younger days, which Gage didn't know about. My confession set us to talk a lot about my sexuality and wanting to experiment with women to find my true self. We eventually settled to meet another couple, and we started our journey from there.
Q. Do you have any tips for those who are interested, but nervous to explore the🍍lifestyle?
A. Here's a little fun fact... The nerves never go away! So, my best advice for new couples and singles wanting to experience more in the bedroom is simply this. TAKE BABY STEPS. Becoming non-monogamous isn't simple as it's been wired into us since we were little. So, when starting, maybe message other couples. Trust me, this can be enough to get the energy flowing, and you'll see your sex life improving through the adrenaline rushes it can bring.
Q. We are so excited for your new app launch! Can you tell us a bit about the app?
A. SwingHub is the ultimate app for the modern-day swingers lifestyle. Powered by cutting-edge technology, SwingHub makes it easier than ever for people to connect with like-minded individuals, explore their sexuality and enjoy consensual, adventurous experiences. The app is designed with user safety as a top priority, providing secure features that allow users to verify their identities and choose who they connect with. With SwingHub, users can browse profiles, chat with potential partners, and even create events or join others in their area. This app is the ultimate platform for those who want to embrace the swingers lifestyle in a modern and safe way. If you're looking for a fun and exciting way to connect with others who share your interests, SwingHub is the app to have.
Q. On Channel 4's 'Sex Actually' TV series, you mentioned you are emotionally monogamous. You clearly have a trusting relationship with Gage and this is heart-warming to see. How has being a swinger affected your relationship?
A. Swinging with the proper communication and the mindset that you and your partner are in the lifestyle as a team can do wonders. It has brought a level of freedom you wouldn't think existed. It has built new levels of trust in our marriage as our communication levels from swinging have spilt over to our day-to-day lives.
Q. According to The Sun, you are the UK's most famous swinger. How does this fame make you feel and has it affected your life in any way?
A. I don't see myself as famous. I am your ordinary Wife, Mum and Woman who makes videos on the lifestyle. Sometimes I struggle when I meet people and they 'Fan Girl' as I can't understand why? We had noticed people don't come up to us and chat in clubs like they used to do before we started going online, but we always get messages saying, "You looked amazing last night. "We were too nervous about coming and saying hello" In my mind, I don't understand it. Gage and I are (what we consider) the most down-to-earth and genuine people you'll ever meet.
Q. You told the Daily Star that "there is no shame in wanting more in the bedroom whatsoever". Do you have any advice for other couples who are afraid to take the step to explore?
A. To take the first step, you must both want it 100%. I understand it can be a scary place to become non-monogamous as it's outside of the social normality. Still, from my experience talking with other couples, it's not difficult when you're both in it together and understand it's okay to want more. Also... Let me tell you a little secret. There are A LOT of people who do this behind closed doors, and many keep it discreet due to work and family reasons. But you don't need to be public and keep it the little secret that gives you the kicks and excitement you're looking for.
Q. You also mentioned that some people have not been so welcoming towards your lifestyle, which is sad to hear. How do you deal with the judgement and negativity from others?
A. Over time, as I've gotten older, I have realised that other people's opinions do not dictate my happiness. Gage always says, " You could solve the problem of world hunger, and someone will always have a problem with it." I always have the mindset that - these people who judge you and say negative things won't matter on your deathbed. You will remember the fantastic times you've had with a community that doesn't judge and spending time with loved ones.
Q. How did you decide to become an OnlyFans creator and how is it going for two?
A. During the lockdown, I was made redundant by my employer. I was working in care and needed something to pay me more. I remember reading articles online about women making ten to twenty thousand pounds a month on OnlyFans. I thought, how hard could it be? So, I signed up and posted my first pic, and to date, we have generated more revenue than we would earn in 10 years and made triple what my annual salary was per month.
Q. What are the best parts of being in the swinger lifestyle? Are there any complications?
A. The best part of being in the lifestyle is it brings Gage and me closer together, it's built new levels of love, trust and freedom, which is crazy to explain, but many others feel the same. The complications come from the outside. People just "assume" that because we're sexually free, we would sleep with anyone and are sex crazy and will hump anything that moves. Also, the comments on my content about STDs 💀 - I have never caught an STD or STI.
Q. Your new podcast series is very entertaining to listen to, especially the intimate stories you share, like the brown hurricane passing through Gage's body 💀 Who's idea was the podcast and what can we expect from future episodes?
A. The idea for the podcast came from Gage. We knew to create a successful app. We had to do more than what the competition was doing. Unlike other lifestyle sites and apps, we want to build trust that SwingHub is here to stay and that we are readily contactable. The podcast's future will be split into two segments: what Gage and I are doing with special episodes of going to different places and regular updates about SwingHub.
Q. What are the pros and cons of working as a 🌶️ content creator?
A. The pros of being a content creator are that you meet a community of like-minded people who are adorable and create unique content to your fantasies while earning revenue from it. The downside is that sometimes your content can leak, and it can be a terrifying experience when that happens.
Q. Any tips/suggestions to creators🌶️✨ who are new to the industry?
A. I have two BIG tips... Make sure you have lots of content ready to go on OnlyFans way before you start promoting yourself online. I am talking about 100 images and 100 videos. No one will pay to see a couple of pics and videos, so ensure your product looks appetising to potential subscribers. ALWAYS REMEMBER - You're in the marketing business, not the adult industry. Anyone can make a sex tape and take nudes, but not everyone knows how to market themselves. Be bold and buy an advertising book. The book I read that changed how I do business online is 'CASHVERTISING'. It shows you the psychological side of how and why people buy products.
Q. How has your experience been with us so far?
A. Rulta was recommended to me by a friend, I was shocked at how fast you guys took stuff down, and from then, I was a fan. Customer support is second to none, and I am never in the dark. One thing I love about Rulta is you can report stuff you've seen online of yourself, and 80% of the time, you have already found it before I have!
Thank you for taking the time to answer our questions!❤️
Visit the Rulta homepage for more information about our services.