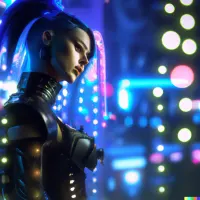 5 MIN READ
What is OnlyFans? How to Become an OnlyFans Content Creator?
What is OnlyFans?
OnlyFans is a social media platform that works on a subscription basis, meaning that those who want to follow you and see your content need to pay for a subscription. This kind of platform is great for those content creators who are hoping to earn a living off of what they do, as people have to pay a certain monthly subscription fee directly to you. This platform is based in the UK, but subscribers and content creators are able to access it from just about anywhere in the world! Developed in 2016, this platform has grown significantly over the last few years, particularly over the pandemic as people needed a new way to earn money.
Who Can Use OnlyFans?
One of the great things about OnlyFans is that anyone can join the platform, so long as you are 18. In order to register on the site, you will need to produce your ID and ID number to validate your age. This is set in place as there is sometimes explicit content that is released on the platform and this protects younger viewers from accessing it. Other than this, there are no restrictions on who can join, whether you are looking to be a content creator or a fan.
Is OnlyFans Anonymous?
OnlyFans can be anonymous as your display name is determined by you, so you can make it whatever you want. Although the OnlyFans platform itself will need proper identification to confirm that you are old enough, this information will remain anonymous. If you make a display name that is not your real name or perhaps just your first name, you can be certain that no one will know who you are.

The same goes for the actual creators themselves, though you will be posting images or videos that would more than likely include your face, so anonymity is a bit harder to achieve. While it may be harder for creators to remain anonymous, you can be certain that the content that you create and release on the platform will not be distributed or seen by anyone other than your subscribers. This safety measure is put in place both to protect what you release as well as help to ensure that images or videos that you are in are not shown to anyone other than your subscribers.
How Does OnlyFans Work?
You may now be wondering about how to use OnlyFans. OnlyFans works by allowing content creators to upload videos and pictures to their account and only those who are subscribed are able to access this data. One of the great things about OnlyFans videos and content is that they are protected by the platform, meaning that the content cannot be shared or distributed. You cannot copy or even screenshot any information, so what a creator produces and releases is secured and will not be distributed.
How to Become an OnlyFans Content Creator?
Create an Account
Setting up your OnlyFans account is completely free and very easy to do! To set up your account, you can create a display name and link your bank account to the platform, making it easy for funds to be transferred at the end of the month. Some content creators decide to create free accounts but are able to monetise their content in other ways. OnlyFans has services that allow for paid posts, paid messages, live streaming and even tipping services.
Set Your Subscription Rate
The subscription rate differs from person to person, usually depending on who you are and what you do. OnlyFans provides its content creators with a forecaster tool that measures your fan base and subscription rates to let you know how much you can make every month. The OnlyFans payment systems are easy to use and if you are using other kinds of services on the platform along with a subscription fee (paid posts, paid messages, live streaming and even tipping services), you can turn OnlyFans into a pretty lucrative business.
Promote Your OnlyFans
Now that your account is all set up, it's time to get the fans involved! There are many ways that a content creator can promote their paid or free OnlyFans account. Many content creators chose to use other social media platforms, like Instagram or Facebook as generally, these social media accounts have many followers already. You can easily place links on your social media pages that lead potential fans directly to your page where they can then subscribe.

Another popular way that OnlyFans content creators can gain followers is by collaborating with other creators. OnlyFans allows for its creators to collaborate and connect with others, which then exposes your account to other potential subscribers. Cross-collaborating is a fantastic way to create content that is unique and interesting while also helping to increase your reach and the number of subscribers that you have!
Plan Your OnlyFans Content
When looking at what content is on OnlyFans, each creator may have a different idea of what they want to release. It is important that you are doing something that you are good at and something that others will want to pay for. Many models chose to release exclusive videos and pictures of themselves and tons of people are interested in seeing this unique content. Whatever you decide to release on the platform, the safety features on OnlyFans will always protect you and ensure that it cannot be released or copied anywhere.
Retain Your Fans
Once you have got your account set up, it is important that you ensure that you are creating and releasing interesting and unique content. Just because a fan signs up to see your content this month does not mean that they cannot unsubscribe if you are not creating quality content. Retaining your fans is incredibly important and it is also how you can grow your brand through word of mouth. If one person enjoys what you are releasing, they are more likely to suggest that their friends also subscribe to your account.